OFFICE FURNITURE LOGISTICS NEWSLETTER

Annual Meeting
Now is the time to start making plans to attend the Office Furniture Distribution Association's, "Annual Meeting and Conference" which will be held Wednesday and Thursday September 19th & 20th at the beautiful Amway Grand Plaza and Hotel in Grand Rapids MI.
Once again this year our meeting is being held in conjunction with Seidman College of Business, Grand Valley State University, and the Council for Supply Chain Management Professionals.

Look for more information in the next newsletter.

Participants needed
As part of our conference, an agenda item we feel would be useful to our members would be a breakout roundtable of various manufacturers and carriers to share and discuss how we manage logistics in our respective companies in order to achieve the lowest possible freight expense.
Volunteers are needed to help build this session, if you would like to participate, please contact me at russ111@comcast.net
Your Association Would Like To Introduce Its Newest Members

Brian Ledson, Executive Vice President, Sales & Marketing
Cavalier Transportation Services, Inc.
14091 Humber Station Road, Box 10, Bolton, ON. L7E 5T1
Phone: 905-857-6981 Email: bledson@cavaleir.ca
Web-site: www.cavalier.ca

Angelo Monti, Vice President Operations
Musket-Melburn Group
2215 Royal Windsor Dr. Mississauga, ON. L5J 1K5
Phone: 800-297-4322 x 227 Email: angelo.monti@musket.ca
Web-site: www.Musket.ca

Mike Campbell, President
Hyndman Transport
RR#1 Wroxeter, ON. N0G 2X0
Phone: 519-335-3575 Email: mcampbell@hyndman.ca
Web-site: www.Hyndman.ca

Industry News
Cass Freight Index
Freight Shipments at 1.094 for March continued their slow upward pace, increasing 2.1% from February. However, March shipments were down 1.3% compared to a year ago. High inventories and low demand may be the culprit.

Freight Expenditures for March at 2.317, were up 1.0 % compared the previous month and came in 4.3% higher than in March of 2011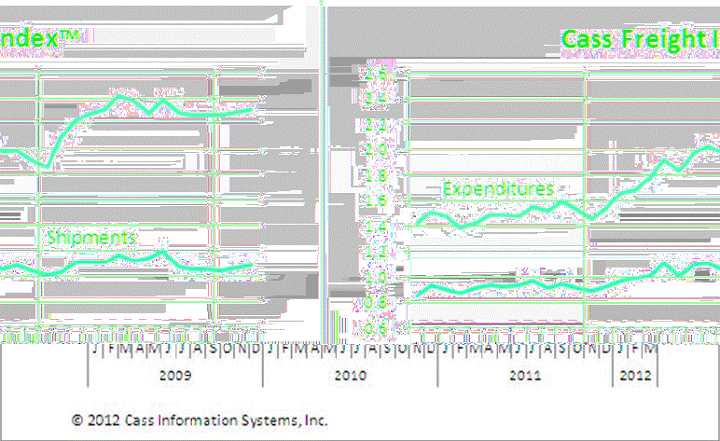 MMPI ANNOUNCES NEXT DECADE OF NEOCON

CHICAGO (April 26, 2012) – Merchandise Mart Properties, Inc. (MMPI) is announcing NeoCon's schedule at The Merchandise Mart in Chicago for the next decade through 2021.

"We're pleased to announce the schedule for the next decade of NeoCon shows, leading the contract industry through the year 2021," said MMPI president Mark Falanga. "As it has for the last 43 years, NeoCon will continue to be produced at The Merchandise Mart in Chicago through the next decade and beyond. The Mart's commercial furnishings industry and NeoCon has been the backbone of The Mart's core business for the last 43 years and will continue to be so into the future."
Hosted annually during the second week in June indefinitely, the NeoCon 10-year schedule announcement comes just weeks in advance of the highly-anticipated 2012 show.
NeoCon: Future Dates
NeoCon 2012 June 11-13
NeoCon 2013 June 10-12
NeoCon 2014 June 9-11
NeoCon 2015 June 15-17
NeoCon 2016 June 13-15
NeoCon 2017 June 12-14
NeoCon 2018 June 10-12
NeoCon 2019 June 10-12
NeoCon 2020 June 15-17
NeoCon 2021 June 14-16
Executive Office Concepts Acquired
Chromcraft Revington has acquired California based office furniture producer Executive Office Concepts. While terms were not revealed, Chromcraft said the company will become part of its commercial contract division and its products will be sold under the EOC brand name
"We believe its commercial product lines, especially an extensive health care line, complement our current product line of seating, tables and waiting area furniture," said Ron Butler chairman and CEO of Chromcraft Revington.

EOC founder and CEO Richard Sinclair, who started the company 40 years ago will remain with Chromcraft Revington as a consultant.
Government
WARNING OF FRAUDULENT USDOT LETTERS
Republished from the TransDigest by permission of the Transportation & Logistics Council, Inc
On March 23, 2012 the Federal Motor Carrier Safety Administration ("FMCSA") issued a warning regarding another new round of fraudulent USDOT (U.S. Department of Transportation) letters dated March 16, 2012, that are starting to circulate among motor
carriers. The letters appear to be from the "U.S. Department of Transportation Procurement Office" and signed by a fictitious name of "Julie Weynel – Senior Procurement Officer."

The letters are attempting to obtain banking information as part of a recurring identity theft scheme by asking recipients to provide bank account information on an "Authorization to Release Financial Information" form. The letter is typically signed by someone claiming to be a "Senior Procurement Officer" at DOT and appears on U.S. Department of Transportation ("DOT") letterhead containing a Washington, D.C. address, but little other identifying information.

According to the FMCSA, any direct communication from DOT should always be accompanied with detailed contact information. In addition, DOT procurement representatives will only request financial information in reference to specific contracts awarded. DOT does not request financial information from prospective contractors wishing to submit a bid proposal or quote.
The FMCSA provides the warning that "THIS IS A FRAUDULENT REQUEST–DO NOT RESPOND" and provides instructions on what to do if you receive such a request or if you have already responded to such a request.
Apparently, these types of letters have circulated before and along with a copy of the recent letter, the FMCSA lists some 30 similar letters, dates and signatories going back to December of 2005.

You can find more information at these Web sites http://www.dot.gov/ost/m60/fraudulent_letters.htm
or http://www.oig.dot.gov/fraud-alert.


Shippers, Carriers Team up
NASSTRAC has lined up with the American Trucking Associations against special interest groups over a battle to change truck driver's hours.
The group intervened in a lawsuit filed in federal court by special interest group Public Citizen which wants to limit the allowable hours to 10 and eliminate the 34 hour restart provision.

The U.S. Court of Appeals consolidated the Public Citizen lawsuit and a challenge to the rule filed by the American Trucking Associations in February.

NASSTRAC supports the ATA's challenge to the 34 hour restart changes and points out that truck related fatalities have decreased under the current rules.
NASSTRAC challenges the portion of the lawsuit filed by the Public Citizen to reduce daily driving hours.
FMCSA Border Plan Illegal?
According to the Teamsters Union, Public Citizen and the Sierra club the federal government illegally exempted Mexican carriers from laws that apply to U.S. companies and failed to sufficiently analyze the effects Mexican trucks will have on air quality.

FMCSA argues that these standards should not apply to Mexico based carriers and that the court should adopt the agencies presumption that long haul trucking by Mexico domiciled carriers will have little to no effect on highway safety.

The FMCSA told the Court of Appeals for the District of Columbia Circuit that it followed all applicable federal laws and regulations when it instituted the program.

The group lead by the Teamsters union wrote in their brief, that the FMCSA is exempting Mexican carriers from federal safety standards with which U.S. companies must comply.
Note;
U.S. officials said they are worried that low participation in the cross-border trucking program with Mexico will jeopardize the program by making it difficult for the Federal Motor Carrier Safety Administration to accurately judge the safety of trucks entering the United States so they are encouraging more Mexican carriers to join the program.
Small Parcel/Air
UPS, FedEx Reject Standards
Fed Ex Corp and UPS Inc. said Federal regulators failed to persuade the two cargo giants to adopt new pilot-fatigue rules imposed on passenger carriers.

Representatives from Fed Ex and UPS were among cargo executives who met in Washington with Transportation Secretary Ray LaHood and Federal Aviation Administration, Acting Chief Michael Huerta..
After announcing in December that cargo operators would be exempt from the new anti–fatigue rule for passenger carriers, LaHood said he would ask the carriers to voluntarily adopt the new rules.

A spokesperson for UPS said the company currently operates under a much higher standard for fatigue prevention and doesn't need to adopt the new rules.

Note See related story below.
UPS Files Petition
UPS Pilots filed a brief with the U.S. Court of Appeals for the D.C. Circuit, challenging the Federal Aviation Administration's exclusion of cargo operations from the new rules governing pilot duty and rest requirements.

William Trent, General council for the Independent Pilots Association said, "The FAA acted contrary to Congress' mandate when the agency published new pilot duty and rest rules in December, excluding a vast and growing segment of the U.S. commercial aviation-cargo." Congress specifically directed the FAA to address the problem of pilot fatigue by issuing new rules based on the best available science."

"The FAA initially agreed, 'stating the old rules are inadequate to guard against fatigue and present an unacceptable risk to the public.' Yet the same agency, under intense cargo industry pressure, abruptly made a 180 degree turn and left cargo pilots under the same set of flawed rules the FAA and Congress found lacking," he said.

The IPA does not seek to overturn the new rules as they relate to passenger operations, but only to have the court order the FAA to reconsider the inclusion of cargo operations consistent with the mandate from Congress.
UPS Launches Expedited Mexico-U.S. Service
Anticipating higher freight traffic from customers moving manufacturing and distribution facilities to Mexico, UPS launched an expedited ground service linking Mexico and the United States.
UPS CrossBorder Connect, is a lower priced alternative to air freight that will speed up shipments from Mexico to the U.S. within two to four days, depending on the origin and destination, said Steve Flowers, president of UPS Global Freight Forwarding.
The service will bundle UPS's customs brokerage capabilities with the expedited trucking network used to support air service in North America.

"It is absolutely expedited freight "Flowers said. "It is going to be faster than standard ground transit times but at the same time much less expensive than air freight as much as 20-30 percent cheaper.
Green News
Slow Shift to Cheaper Fuel
Low natural gas prices are providing trucking companies with an opportunity to begin shifting their fleets from diesel power to the cleaner and more affordable fuel. However the adoption of natural gas trucks has been slow.
Willingness to invest in new equipment has slowed the industry, though the major hindrance has been a lack of a national fueling system. Now that fueling network is taking shape. Chesapeake Energy, a natural gas provider, will invest $150 million to help Clean Energy Fuels build 150 liquefied natural gas fueling stations along major trucking corridors. The two year project is the first phase of Chesapeake's billion dollar initiative to drive demand for the fuel.
Until those filling stations go online most of the activity is among regional carriers. Saddle Creek Transportation for example has 40 compressed natural gas powered trucks, will add 40 more by the end of the year and 20 more in 2013
Clean Energy has built fueling stations for the company in Florida and Atlanta and there are plans to add stations in Charlotte NC and Dallas.
"I don't know if we will ever buy another diesel engine," said Mike DelBovo Saddle Creek president. "The cost of fuel is a lot more predictable."
Natural gas powered engines are getting bigger, along with the fueling networks. With diesel at more than $4.10 a gallon and CNG at under $2 a gallon, now is the time for carriers to begin talking with their shippers about getting onboard.
Trucking
Cass Truckload Index
The Cass Truckload Linehaul Index registered a value of 108.2 in March. Although truckload pricing has been trending down since January, it is still near an all time high, with March figures coming in 7.2% higher than March of 2011.
The index dropped 0.8% from February and is down 1.1% from January when it peaked at 109.4
LTL Pricing to Go Up
In a report issued by Stifel Nicolaus a Wall Street Transportation firm, LTL carriers will retain their pricing power over shippers and rates will increase through 2014.
LTL carriers will have to use pricing power more broadly and exercise fiscal and operating discipline to cover their costs of capital, said David Ross a managing director of the firm.
Stifel Nicolaus expects LTL yields, excluding fuel surcharges, to climb another 4-5% in 2012, as carriers maintain pricing "rationality" or discipline and LTL capacity gets tighter.
The LTL industry is still in the first half of a margin expansion from the record low point hit during the recession. Tight capacity may shift some freight to LTL networks, increasing lane and load density over the next few years.
More Groups Challenge HOS
The American Trucking Associations filed a petition with the U.S. Court of Appeals for the District of Columbia saying several aspects of the new Hours Of Service rule issued by the FMCSA are "arbitrary and capricious' and should be overturned,.
The ATA questions changes to the restart provisions requiring that it include two consecutive periods between 1am and 5am and the limits on frequency in which a driver can use the restart.
"While we had hoped to avoid litigation by providing FMCSA with overwhelming evidence that their rulemaking process and proposals were flawed, now that we have challenged this regulation we will do so vigorously and vocally," said ATA president and CEO Bill Graves.
The Truckload Carriers Association (TCA) also filed a motion in court to intervene in the suite originally filed by the ATA. "Safety is paramount to the trucking industry, while we remain committed to continue to reduce accidents; we believe the new rule will take us backward not forward," said Chris Burruss TCA'S president.
Intermodal/Rail
Cass Intermodal Index
The Cass Intermodal Linehaul Index registered a value of 102.4 for March and was just
-0.1% lower than March 2011.
The sequential cost increases between February and March were the largest seen since February 2010 and likely due to increased demand for intermodal as truckload capacity is tight and rates high.
BNSF, Maersk Announce Joint Venture
Maersk Line has announced a new service in conjunction with BNSF Railway between fifteen Asian ports and five U.S. destinations that is meant to insure delivery of international shipments on the promised delivery date.
Dubbed the Flagship Service the new operation is intended to offer fixed transit times and 95% on time delivery.
The U.S. destinations include Chicago, Dallas-Fort Worth, Houston, Memphis and the intermodal facility near Toledo Ohio.
Asian Origins include ports in China, Japan, Malaysia, Vietnam and South Korea including Shanghai and Hong Kong. Transit time from Shanghai to Chicago is promised to be 19 days.
Speed is not the essence of this service, being on time is, said Timothy O'Connell, senior director of trade and marketing for Maersk Line. It's about being absolutely reliable based on time.
Warehousing
DC' Going Inland
Online retailers are looking for smaller, more automated warehouses away from the major population centers.
The key is finding sites roughly a two day access from large population centers without the high warehousing rents found in import gateways such as the New York-New Jersey region. States such as Arizona, Indiana, Kentucky Nevada, Ohio, Pennsylvania Tennessee and Utah fit the description.
Retailers are setting up distribution centers that are smaller than traditional facilities but far more automated said Cathy Roberson senior analyst for Transport Intelligence.
Opening a DC in more inland locations doesn't just save e-retailers from costly rent and property taxes. Labor in the Midwest or Southwest such as Nevada and Arizona also tends to be cheaper. Large e-commerce companies employ five to ten times more employees as traditional DC's and salaries tend to be higher because the automated facilities require more know-how.
Ocean
Canal Opening Delayed
The Panama Canal's new locks will probably miss their scheduled opening in October 2014, but should be ready for a test run in December.
The delay in the opening date of the new locks is caused by the inability of the consortium GUPC, that is building the locks, to meet contractual requirements for the concrete mix, which delayed the laying of the concrete that met the standard from January until July last year. To meet the standards the concrete has to last at least 100 years but the contracted company could not make concrete that met that standard until the canal authority brought in an outside expert to show them how to make it.
Most industry observers had not expected the new locks to be in full commercial operation until 2015, but the three month postponement of the target date for their opening is particularly disappointing for Alberto Aleman Zubieta the locks administrator who will retire in Sept.
In addition to penalties for not completing the locks on time, GUPC could face penalties of up to $200 million if the locks fail to meet tests
Maersk Hiking Rates
Maersk Line said it will raise U.S. and Canada export rates to Asia in May, part of a huge drive to increase revenue on a number of global trade lanes.
The rates on Westbound Transpacific will be hiked $160 per 20 ft container, $200 per 40 foot container or 40ft high cube container and $250 per 45 ft high cube container.
"In order to continue to offer our broad portfolio of services and high level of reliability it will be necessary for us to implement a number of rate increases/restorations," Maersk said.
A partial list of additional proposed import increases include;
From Far East Asia to U.S West Coast $400 per 20 ft container, $500 per 40 ft container, $565 per 40 ft high cube container and $630 per 45 ft high cube container.
From Far East Asia to the U.S. East coast $560 per 20 ft container, $700 per 40 ft container, $790 per 40 ft high cube container and $885 per 45 ft high cube container.
From Far East Asia to Canada, $400 per 20 ft container , $500 per 40 ft container , $565 per 40 ft high cube container and $635 per 45 ft high cube container
The above increases are slated to go into effect on May 1st.
Ocean Carriers Idle Part of Fleet
According to Soren Skou CEO of Maersk Line, container shipping lines have idled about 5% of the global fleet capacity as demand for container shipping space slows. That equates to about 800,000, 20 ft equivalent units and could soon increase to more than 1 million TEU's a level not seen since 2009 when trade was severely hit by the financial crisis.
He forecasted container demand growth will slow to between 5 and 8 percent in the next few years compared to an average of 10 to 11 percent over the past 25 years, as Western economies weaken.
Maersk has already removed 9.5% of its Asia-Europe capacity and has decided against ordering ten more Triple-E vessels, the worlds largest container ships, to add to its current fleet of 20. Despite the cuts, Maersk Line maintains its dominant 15.5% share of the container market.
According to Drewry Shipping Consultants, the container shipping industry, which lost an estimated $5.2 billion last year, is starting to lay ships up in an effort to support the increase in freight rates it has been announcing on major east-west lanes.
Scholarship
Do you have a student of logistics that could use financial support? If so, there is still time for you to nominate them for the 2012 scholarship fund.
Simply, go to our Web-site; www.theofda.org under the Events section then click on Download Scholarship fill out the nomination form and email it to: russ111@comcast.net ASAP.
Press Releases
If you have information about your company you would like to share with our members or any article you would like to see included in the newsletter please send the information to russ111@comcast.net and I will see that it appears in the next addition of the newsletter
The Staff and Board Members of the Office Furniture Distribution Association would like to wish you and your family a healthy and prosperous new year.